Hawks Talon GC, the official NBA 2K League affiliate of the Atlanta Hawks, will begin the 2023 NBA 2K League season on Thursday, March 9 with matchups against Celtics Crossover Gaming (6:45 p.m. ET) and Kings Guard Gaming (8:15 p.m. ET) in 3v3 gameplay. All games throughout the season can be found on the NBA 2K League's Twitch and Youtube channels.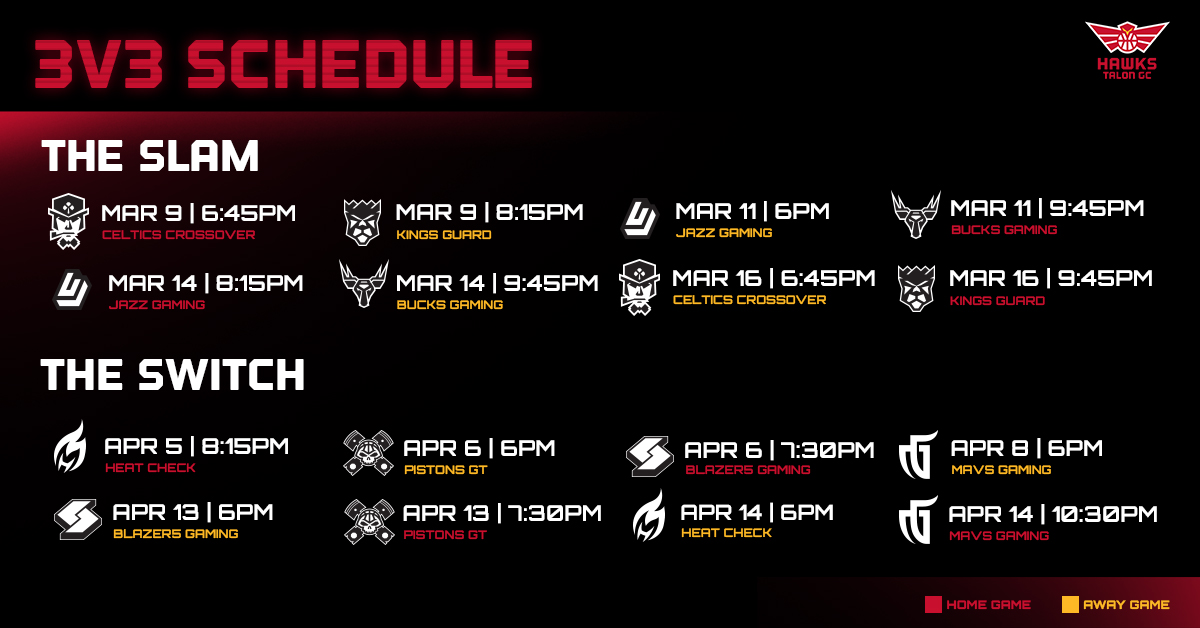 In the recently announced 2023 NBA 2K League season structure, all 3v3 tournaments will be played beginning on March 8 and will run through May 13. This will include the SLAM OPEN, SWITCH OPEN and STEAL OPEN, and the 3v3 NBA 2K League Playoffs. The 3v3 format will include double elimination bracket play and no conferences. At the end of two weeks of group play in each tournament, all 25 NBA 2K League teams will advance to a 32-team remote bracket play for the first week, with the 12 top-performing NBA 2K League and Community teams remaining advancing to in-person bracket play in Washington, D.C. for the following week.
Following the conclusion of all 3v3 tournaments, 5v5 gameplay will commence, beginning on May 23 and running through Aug. 5. The 5v5 format will follow last season's traditional format with conferences and single elimination bracket play and will include THE TIPOFF, THE TURN, THE TICKET, and the 5v5 NBA 2K League Playoffs. During two weeks of group play, teams will face off in smaller groups (three groups of six teams, one group of seven) within their conferences. After group play, the top four teams from each group will advance to bracket play, the first week of which will be played remotely. The best eight teams from that original group of 16 will then advance to in-person bracket play in Washington, D.C.
Hawks Talon GC returns to the virtual court on the back of their most successful year in 2022, having advanced to bracket play in three of four regular season tournaments and making the 3v3 NBA 2K League Playoffs for the first time in franchise history. On Jan. 26, Hawks Talon drafted Mark David Smith (MDS) with the first overall pick in the 2023 NBA 2K League Draft. The team also traded for 2022 NBA 2K League All-Star Sam Salyers (GRADIENT) and drafted DeJuan Queen (HIDEJUAN) with the 37th pick. The three new additions join Caesar Martinez (CEEZ), who won Player of the Week honors twice last season, and Juan Gonzalez (HOTSHOT), a five-year NBA 2K League veteran and 2019 All-NBA 2K League Second Team member acquired prior to the 2022 season.
Powered by WPeMatico