The host, analysts, and commentators of the first Rocket League tournament by WePlay Esports are revealed.
The WePlay Esports media holding company has announced the talent roster for the WePlay Esports Invitational featuring Rocket League. The tournament is to take place on September 16–19, 2021, with the broadcast held from the WePlay Esports Arena Kyiv.
The first tournament day will start at 16:30 CEST with the preshow, and the first match between Team BDS and Vodafone Giants will take place at 17:00 CEST.
English-speaking talent crew: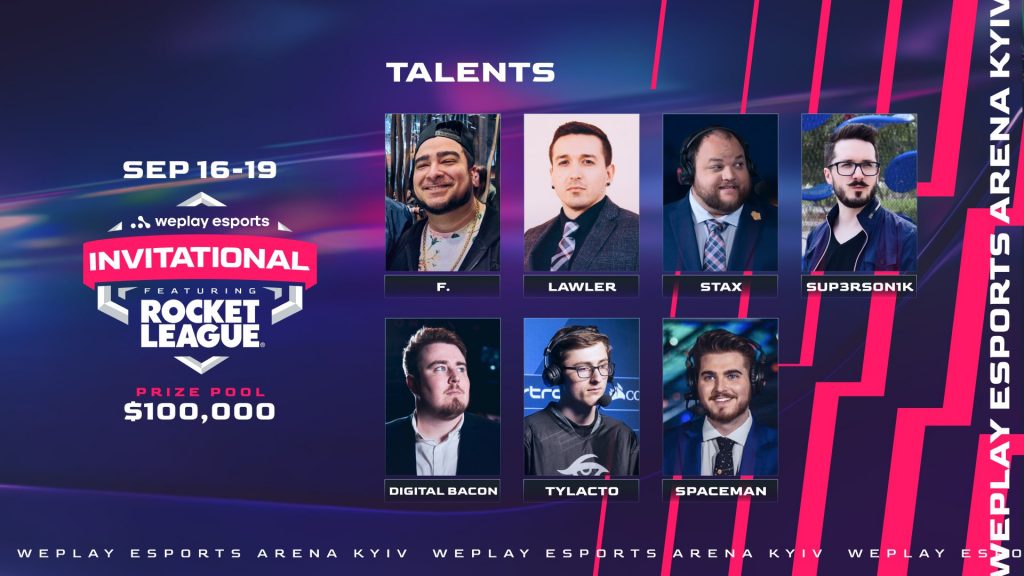 Host:
Casters and analysts:
Adam "Lawler" Thornton
Sean "Stax" Stackhouse
Jason "SUP3RSoN1K" Burns
Corey "Digital Bacon" Dyer
Stephen "Tylacto" Griffin
Sean "Spaceman" Rogers
"This is our first Rocket League tournament, and we will strive to make it as exciting and engaging as possible. Our talent crew has been working with this title for a long time, so be sure to enjoy the excellent analytics and have lots of fun along the way" comments Anton Tokarev, Lead Esports manager at WePlay Esports.
"Rocket League is a game like no other, and WePlay Esports always brings a unique flair to the tournament scene. Seems like a perfect fit! Big action, and big competition. Can't wait to see you there, RL Nation," says Thomas "F." Badinger, host of the WePlay Esports Invitational featuring Rocket League.